29
Youth Soccer Formations – Which One Should I Use?

By Nigel Reed
I am approaching the final year of coaching a team from the under 8's through to Under 16's, and during that time I have discovered the growth that players go through. both physically and also their mental approach and understanding of the game. It has been a great journey of discovery, and through substantial learning, both self help and formal education, I am now a firm believer in the "Principles of the Game" and how youth soccer formations fit in with the principles of the game. I will try to explain.
Lets say you have an 11 a side team and you decide on a 4-4-2 formation. So, our line up is:
One goalkeeper,
Four defenders (two central and two wide),
Four midfielders (again two central and two wide) and
Two strikers (mainly central).
With our 4-4-2 formation we have a game plan that is quite basic and yet very effective. Our tactics are to get the ball behind the defence to the wide midfielders who either cut in for goal or get to the byline and cut the ball back into the danger zone for the strikers and the opposing midfielder to have attempts on goal. This game plan is all well and good, and for the most part we follow it.
Generally speaking, our opposition will also have a game plan, and it could be entirely different to ours and have a different formation, so the question is
How do you respond to a team with a different formation?
The answer is of course it depends on a number of factors
The capability of your players
The capabilities of the opposition
The score of the game
The conditions
The amount of time left to play
The importance of the game
Here are a couple of scenarios for you to ponder.
You are 1-0 down in the cup final with 10 minutes to go
You are 1-0 up in the cup final with 10 minutes to go
With scenario 1, clearly we need to score a goal to at least stand a chance of either winning or going to extra time. So you need to evaluate the best way to score a goal, which is generally having more players pressing forward and shoot at every available opportunity. Also, you should consider the opposition, are there any relatively weak links in defence? So here is an example. The oppositions central defenders are very tall and good at defending high balls, so to get past the tall defenders, we could go out wide and cut the ball across the face of goal or thread through balls on the ground. It will be more effective than pumping high balls up the pitch, which will inevitably be cleared by the tall defenders. We also need more numbers in the box to take advantage of any balls in there, so we could simply change to a 3-4-3 and either have an attacker peel out wide to receive the ball down the flank and cross it to the other 2 strikers plus any midfielders that can get into the box or an attacker check back and make space out wide for the wide midfielder to exploit the width and cross the ball, low and hard into the danger zone.
So from this, you can see that by simple adaptation and slight change to the formation, we can exploit our strengths' and expose the oppositions weakness, or at least not play to their strengths. To do this I believe that you need to start of with a sound formation first, and have a complete understanding of your players, technical, physical and emotional attributes.
Conclusion
The 4-4-2 is the most widely used youth soccer formation in 11 a side competitions, and for good reason. It is easy for players to understand, both as a team formation, and also for individual roles within the formation. eg it is very easy to describe to a wide full back their position and role within the team. It is also easy to adapt and change. For instance by simply moving a central defender forward and tightening the remaining three defenders, you now have a 3-5-2 formation. You can progress this further by moving a midfielder to the forward line you now have a 3-4-3 formation. I think you get the picture!
Good luck with your coaching
What positions and how they are used in youth soccer formations as well as numerous free soccer drills is covered in much greater detail at
© 2007 Coaching Youth Soccer for Success.com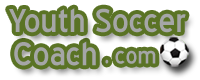 Are You Part of Youth Soccer Coach?
Join the newest soccer coaching website - Click the link below.
Soccer formation diagram

Tags: soccer field formations, soccer formations, soccer player formations, soccer positions, Youth Soccer Formations
3 Responses to "Youth Soccer Formations – Which One Should I Use?"