03
The 4-4-2 Soccer Formation – Are You Using It … Correctly?

Coaches,
Across the world, the 4-4-2 soccer formation is the most widely used 11V11 formation there is. It is known as a defensive formation, but with only slight changes, it can be a deadly offensive formation too. Some coaches play the 4-4-2 soccer formation with a diamond formation for the midfielders. Some coaches like to rush one center midfielder into the attack with the forwards. Many coaches choose to keep the other center midfielder back is a "holding" responsibility. No matter what way you like to play the 4-4-2 soccer formation, it can be a great strategy for your soccer team.
Coach Mark Soccer Club has all you need to know about playing this universal formation. I've got a free soccer responsibility diagram with a diamond, one more without, one more with an attacking center midfielder, and one more variation also. I also provide more coaching notes than any other formation I've provided to date.
Check out Coach Mark Soccer Club and download the 4-4-2 formation and all the wonderful information and coaching notes for free!
To your soccer success,
Coach Mark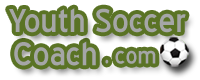 Are You Part of Youth Soccer Coach?
Join the newest soccer coaching website - Click the link below.
Soccer formation diagram

Tags: 4-4-2 diamond diagram, 4-4-2 field diagram, 4-4-2 formation, 4-4-2 formation diagram, 4-4-2 soccer formation, soccer field diagram, soccer formation diagram