17
New Soccer Documents Added to Youth Soccer Coach Website!

Coaches, we still think about coaching our soccer / football teams, don't we? This is the time of year we should be studying, refining our approach, developing new strategies, and planning for the first time we get our new team on the field and ready to practice.
Much of our success on the field comes from our study, training, planning off the field, doesn't it? A prepared coach makes for a prepared team, which can put the odds in your favor to win more games, and have more fun!
The team over at Youth Soccer Coach have added a bunch of new documents to the website so you can work on your coaching over the long hard winter. Recently, we've added a labeled soccer / football field diagram, with labels for every line, arc, mark or circle on the field. It's a great teaching tool.
We've also added a 4V4 soccer field formation diagram, a 2-1-3 soccer formation diagram for the 7V7 format, and a 3-2-2 soccer position diagram for those that play 8V8.
Lastly, we've added a game analysis worksheet (one of my favorites!). It's an awesome worksheet that allows you or your coaches to document your team's strengths and weaknesses against an opponent, and also your opponents strengths and weaknesses. It includes space for noting the opponent's best players, the formation(s) the opponents use, the opposing coaches strategies/tendencies, and much more. You have to check it out!
That's it for today. Just remember, if you are in a cold climate and are maybe seeing snow on the ground, it doesn't mean you can still "work on your game"!
To your soccer success,
Coach Mark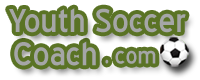 Are You Part of Youth Soccer Coach?
Join the newest soccer coaching website - Click the link below.
Soccer formation diagram

Tags: 11V11 formation, 2-1-3 soccer formation, 3-2-2 soccer formation diagram, 4V4 formation, field diagram, game analysis worksheet, soccer diagrams, soccer formations, soccer positions