13
Soccer Coach License – Do I Really Need One?

By C Turner
There are many licenses now available for budding soccer coaches, but are they really necessary? In this article, I'll give you the lowdown.
I don't know about you but I hate exams. They are such a pain in the back side. Having to sit down in a hall and prove that I know how to coach soccer, or even worse – having to deliver a presentation to a board of examiners. Surely all this is not necessary, right?
Sadly, it is so I recommend you face the reality – here's why.
Nobody needs a license to coach soccer (actually there is one level where you do, more on that later). You just help out some kids or young adults, assist them with drills, motivate them, make tactical changes, plan for your next game etc. Why would you need a qualification to do that? Surely, there is no replacement for experience?
Yes, experience is more important actually but it's a "chicken and egg" situation. You need a license to get better jobs to get experience. And without experience, you cannot get the better jobs either. Here's what you should do. Most countries have a soccer licensing body, usually the national soccer association, who offer a variety of qualifications. Just get yourself what is normally called the "Level 1" qualification. It's real easy and a cinch compared to your high school exams. And you'll actually learn a lot too.
Once you have your Level 1 badge, you'll find that a lot of doors open to you. People can recognise that you are serious about coaching soccer because you went to the trouble of getting your badge. They'll help you get the experience you need to ascend the coaching ranks and maybe one day become pro.
Oh yeah, remember how I said that you don't need a license to coach soccer? Well, actually, the top European coaches now have to take the UEFA Pro license to keep their jobs. So, if even the pros have to take some exams, then one exam for you is not going to hurt now, is it?
Want to learn more about becoming a pro coach? Need to know what it takes to become part of the elite set? Discover what you need to know about a soccer coach license and much more and get a sneak peak look at the new soccer coaching bible at http://www.EliteSoccerCoach.com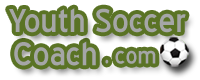 Are You Part of Youth Soccer Coach?
Join the newest soccer coaching website - Click the link below.
Soccer formation diagram