08
New Youth Soccer Coach Site Now Live!

BIG ANNOUNCEMENT!
Coaches, months of hard work, long development hours, and constant refinement have paid off. What better time to open the doors than World Cup time?
I'd like to announce the grand opening of the Youth Soccer Coach site! This new site has been a labor of love for this beautiful game and aspiring soccer coaches around the world. This new site is a membership site where coaches can join to download coaching information that is much more detailed than what you might have seen in the past, and all applicable files can be edited to make them your own!
Yes, it's true. No other website I've seen is offering information like this! You can edit the files and put your club or team logo on them, change the terminology to match your own, and modify them any way you see fit.
Many of the soccer formation diagrams we are famous for now have multiple versions of each diagram included, and up to 4, 5, and 6 or more pages of description, strategy recommendations, variation discussion, and more.
If you've seen what is available at the Coach Mark Soccer Club website, you're going to be blown away by what you see at the new site!
We've got soccer player evaluation forms with 160 categories of skills and personality traits to assess. We've got over 130 of the best training, conditioning, skill development and technique videos to be seen anywhere on the Internet. Soccer information for coaches, players, parents and team managers are all available. I promise you've never seen anything like this before.
Please visit the Youth Soccer Coach site now and receive introductory pricing that won't last for long. Join the site before the Fall price increase!
(Dedicated) To your soccer success,
Coach Mark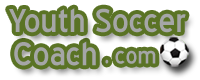 Are You Part of Youth Soccer Coach?
Youth Soccer Coach is the website for serious coaches wanting to take the next step. Files can be edited, 130+ videos, and more formations! CLICK THE LINK BELOW.
Soccer field diagrams

Tags: field diagram, practice drills, Practice plans, soccer diagrams, soccer field diagram, soccer formations