30
Coaching Soccer – Teaching Soccer Tactics

By C Turner
Coaching soccer is not just about drills and fun games – a soccer coach needs to instill his team with a good education about tactics too. While he may decide the tactics, the players need to understand them in order to carry them out. Discover more in this article.
These days, tactics play a very important role in the beautiful game. Don't be confused by them though. In my opinion, your team needs to have the will to win and the ability to play soccer with confidence and no fear of failure. These are the most important things. Tactics though are still very important.
One of the best way for players to learn tactics is to study video. You might think that they already know a lot of basic tactics because they watch a lot of TV but most people just follow the image of the ball and do not easily take in the bigger picture. So one possible use of video is to get some historic footage where the game turned due to a tactical change. For instance, one of the numerous examples of when Ole Gunnar Solskjaer came on as a super sub for Manchester United and changed the game.

This is a great example to show players and get them to understand that when you take them off the field for a substitute, it is nothing personal and simply a tactical decision. It is not about the player and is only about achieving the shared goal of winning.
Something else you should do is to make sure that your players are all aware of your basic formations. So, let's say that you normally do a 4-4-2, if you practice a 3-5-2 or 4-3-3 in training, and the players get used to and understand playing in these formations, then it will be much easier for you to make the change in the middle of a game that you need to win.
These soccer tactics are just the tip of the iceberg and you need to know many more to one day become a top pro coach. Discover much, much more about coaching soccer at http://www.EliteSoccerCoach.com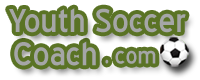 Are You Part of Youth Soccer Coach?
Join the newest soccer coaching website - Click the link below.
Soccer formation diagram