28
Becoming A Soccer Coach – Essential Advice That You Need To Know

By C Turner
Many people harbor dreams of becoming the ultimate soccer coach. In this article, I can help your dreams come true.
Soccer (or football) is a global sport. In fact, if you didn't know already, it's the biggest sport in the world with fanatic followings in every country and corner of the globe.
This means that you are normally in one of two situations:
– you live in a country that is passionate about the sport and everybody loves soccer.
– you live in a country where soccer is overshadowed by other sports but is growing rapidly.
The great thing is, you can succeed as a soccer coach in both types country.


For the more "soccer developed" country, there is much more competition to be a soccer coach. Everybody follows football or soccer and everyone has an opinion on it. In these countries, there are also many women who will casually have an opinion on the game or a team. This means that it can be hard to differentiate yourself as nearly everyone's knowledge comes from television, articles, newspapers etc.
You should try to read the less common information out there. There are many other books out there with great information on how to become a soccer coach. These books contain information on tactics, strategy, team selection, drills, attitude and more. These will really set you apart from your competition.
Secondly, the coaching system will be more established in your country and this is a good thing. Contact your national soccer association and find out what kind of coaching badges you can take. As soon as you get your first badge under your belt (and the first is usually really easy), then you can differentiate yourself and doors will open. Get your second badge and you will be laughing.
In less "soccer developed" countries, in fact you have a superb advantage. Even in the USA, because soccer is not part of the national psyche, your existing knowledge from just being a fan will put you in a great position. You can be seen as a higher authority than in other countries.
But I still recommend that you read as much as you can about becoming a soccer coach. Knowledge is key and the biggest football coaches in the world learn as much, if not more, than your average university professor.
Apart from reading there is also another great way to get knowledge: volunteer at your local team to become an assistant coach or help out. A lot of lower league coaches don't get much help or budgets and they will really welcome the help that you can give them. In return you can get some good experience and excellent advice from the coach.
Remember with soccer – knowledge is power!
Need to know what it takes to be a soccer coach? Discover the secrets on how to become a soccer coach at http://www.EliteSoccerCoach.com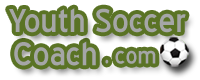 Are You Part of Youth Soccer Coach?
Join the newest soccer coaching website - Click the link below.
Soccer formation diagram